Terry Pratchett: 1948-2015
Posted on: 03/12/2015 · Estimated reading time: 4 minutes to read
Discworld author Terry Pratchett died at home today, after almost a decade of struggle with a rare and especially embuggering variant Alzheimer's disease called posterior cortical atrophy. As a memorial to one of the giants of modern fantasy, The Black Sword will attempt to compile a reasonably comprehensive set of resources about the late Mr. Pratchett and his works.
Personal Memories
I have to admit that I'm not as conversant with his work, particularly his Discworld books. I haven't read most of them. The only ones I recall reading are some of the Rincewind books: The Colour of Magic and Sourcery. I enjoyed them, but other books and authors grabbed my attention.
I'm currently reading Night Watch, though the graphic below, by Krzysztof Kietzman from suggests I might have been better served by starting with Guards! Guards!.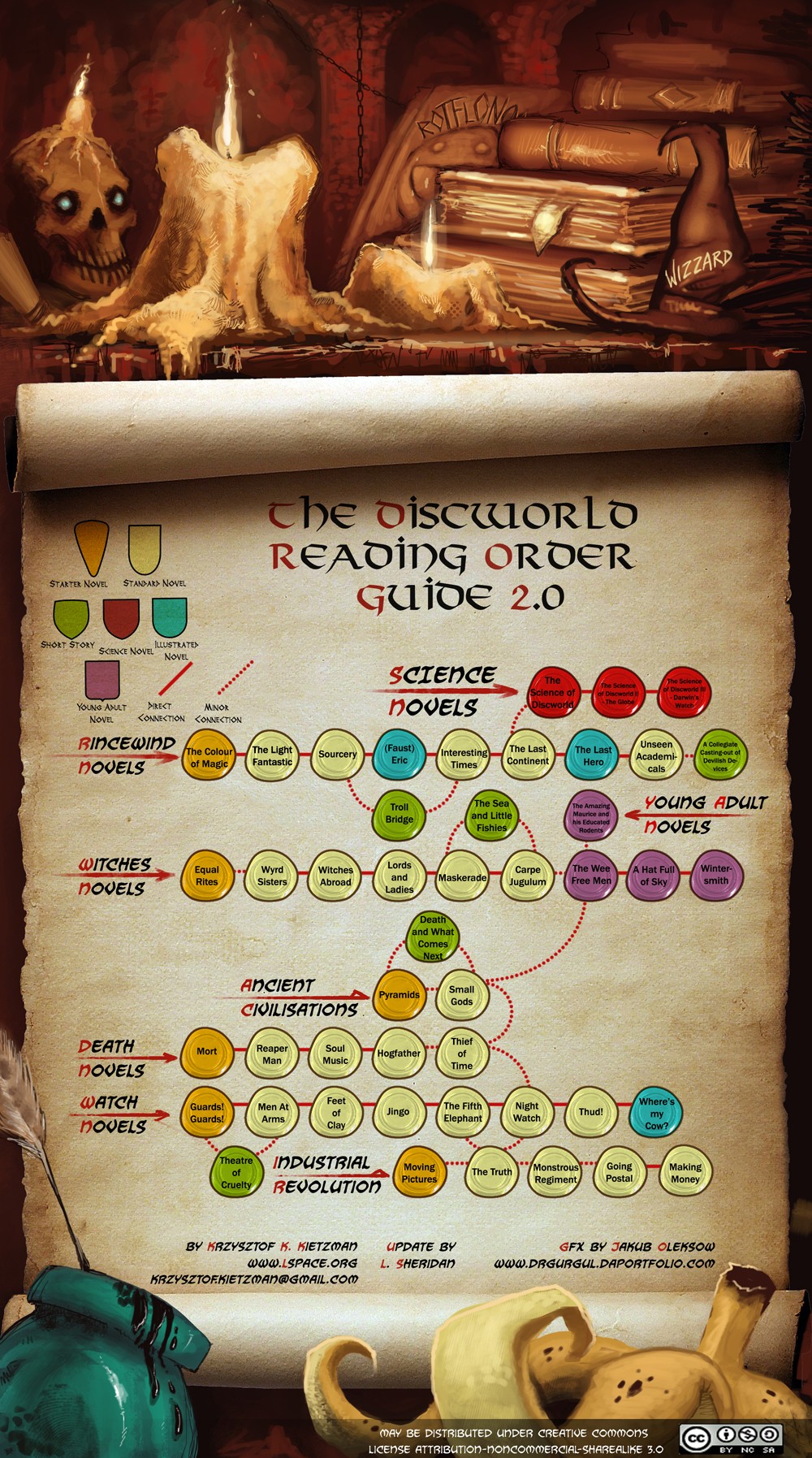 As you can see, Night Watch is pretty far along. I blame Rowan Cota for mentioning it, but only a little.
Believe it or not, my first exposure to Discworld was the PlayStation port of the MS-DOS point-and-click adventure with voice acting by Monty Python's Eric Idle and the Third Doctor, John Pertwee.
Years later I went looking for more work by Neil Gaiman after reading Sandman and American Gods, and came across a little novel he co-wrote with Terry Pratchett called Good Omens in which a bungling Satanist nun switches the Antichrist at birth with a normal human child. The baby Antichrist, named Adam by his unsuspecting parents ends up telling Heaven and Hell alike to sod off – which is absolutely metal.
It's because of Good Omens that I cared enough to tweet when I heard of Pratchett's death, and why I'm writing this post. I don't think Death ever said this in any of Pratchett's books, but I thought it would be his style.
#RIP Terry Pratchett, 28 April 1948 - 12 March 2015. "TO MAKE YOU WAIT ANY LONGER IS POINTLESS CRUELTY," said Death. http://t.co/84CI0c8VcN

— Matthew Graybosch (@MGraybosch) March 12, 2015
Terry Pratchett's official Twitter account had the following to say, as you may already know.
AT LAST, SIR TERRY, WE MUST WALK TOGETHER.

— Terry Pratchett (@terryandrob) March 12, 2015
Terry took Death's arm and followed him through the doors and on to the black desert under the endless night.

— Terry Pratchett (@terryandrob) March 12, 2015
The End.

— Terry Pratchett (@terryandrob) March 12, 2015
Media Coverage
PSJM Prints announced Terry's death, and the following news outlets provided additional coverage:
Use this Google News link to get current news on the life and death of Terry Pratchett.
Articles by Terry Pratchett
The following are pieces by Terry Pratchett himself re-issued to mark his passing.
Resources
The following sites provide information on Terry Pratchett and his work.
Terry Pratchett: More Awesome Than I Realized
I might have read this before, but Terry Pratchett smelted his own iron, including some meteoric iron, and forged his own sword. That makes Pratchett metal.